Fun & Important Facts You Need To Know About Tiffany Young
Tiffany Young was born on August 1, 1989 is an American artist who is professionally known as Tiffany or Tiffany Young. Born and raised in California, she was discovered at the age of fifteen by South Korean talent agency SM Talent, and eventually moved to South Korea.
Hwang to Young
Tiffany used to go by the pseudonym Tiffany Hwang, taken from her Korean name Hwang Mi-young, and did not change it until her Remember Me cover from the movie Coco was released.
Mushroom Queen
Born and raised in California, as she started out in South Korea, Korean wasn't her strong suit. She mispronounced "jewel" as "mushroom" and introduced herself as "Tiffany, who is lighter than a mushroom." People will offer her items in the shape of a mushroom as gifts.
Pink? Yes, Pink.
Tiffany is nuts for pink and she doesn't bother denying it. She clarified that her older sister always preferred blue when she was young and so she would always go with pink. In the end it became a routine.
"I always thought it was my color," she told a television show. Certain members of the Girls Generation have shared how happily she will eat pink confectionery and pink ice cream, play with pink hair of other friends, and fill her purse with pink items from phone chargers to make-up bags.
Career Expansion In USA
In June 2018, Tiffany signed with American talent firm Paradigm Talent Agency to expand her US music career. The agency also manages artists including Ed Sheeran, Jason Mraz, Imagine Dragons, Coldplay and others.
https://www.paradigmagency.com/music/tiffany-young/
Road To Fame
Tiffany tried her hand in acting in the 1980 Korean musical Fame adaptation. As heroine of the play, Carmen Diaz, a stardom-thirsty pupil at the High School of Performing Arts, she showed off her sweet live singing. Following Taeyeon and Jessica she was the third member of the Girls ' Generation to take part in a musical. At a press conference she said the role reminded her of her days as a trainee when she took a plane from the US to Korea, with nothing but her hopes. Super Junior's Eunhyuk was part of the cast too.
Tiffany Young will conquer the Philippine stage on January 25, 2020 at the New Frontier Theater for her 'Open Hearts Eve' Part Two Concert in Manila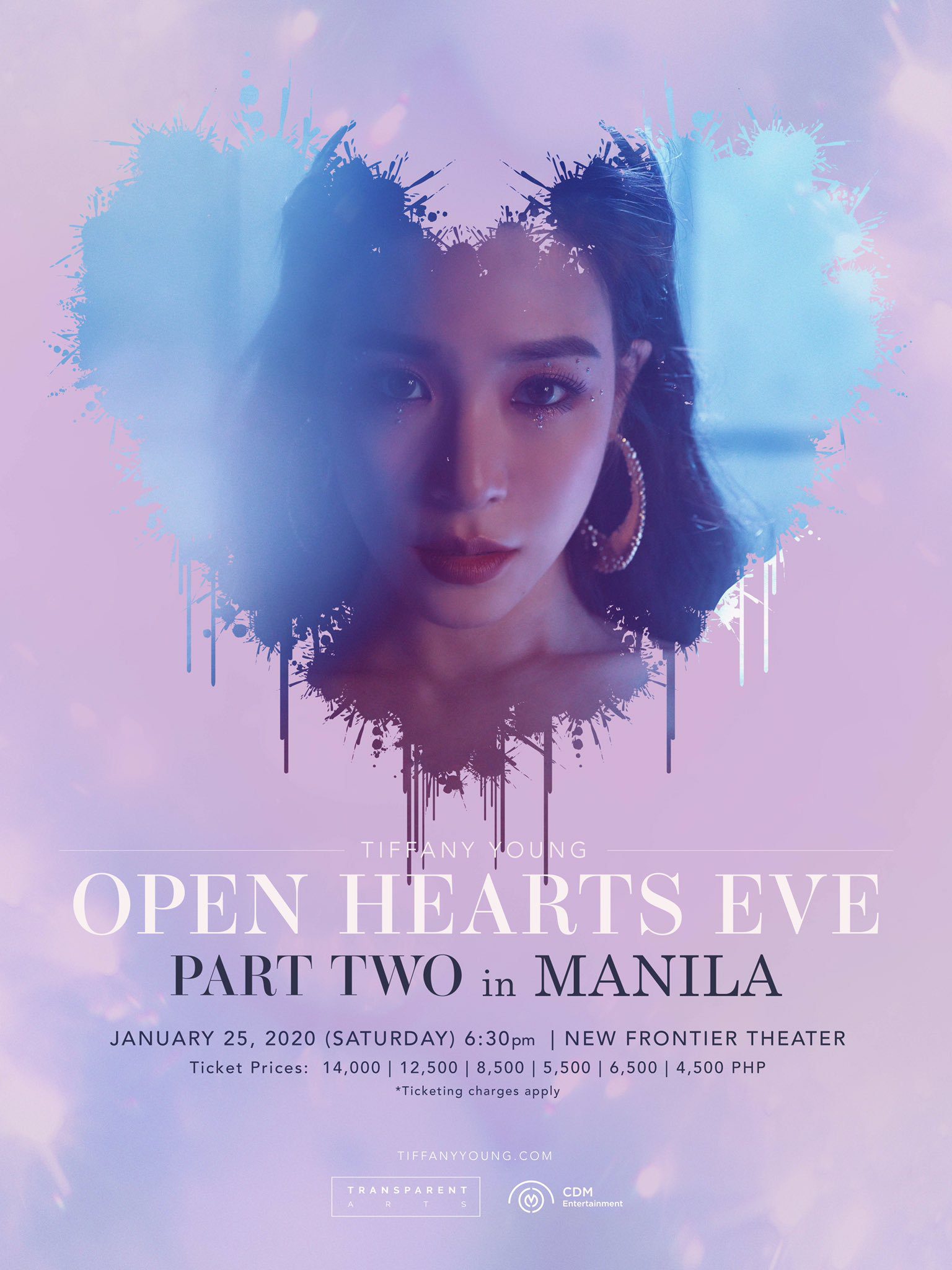 This show is presented by Transparent Arts and promoted by CDM Entertainment.
Hurry while tickets are still available at www.ticketnet.com.ph
#OpenHeartsEve_MNL #TiffanyYoungInMNL #TiffanyYoung
#TIFFANY #SNSD #TransparentArts #CDMEntertainmentFacebookTwitterShare